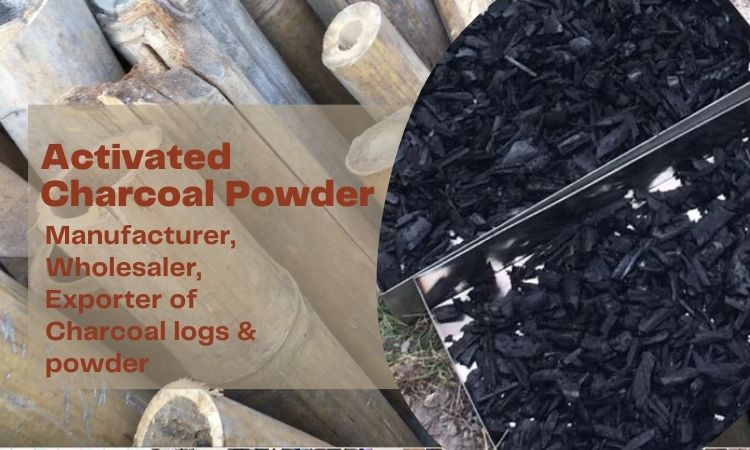 Best Activated Charcoal Manufacturer, Supplier in India in India
Aadhunik Ayurveda is the best manufacturer, wholesaler & exporter of edible charcoal pieces/logs and powder in India. Activated Charcoal Powder is obtained by way of heating charcoal with oxygen. It doesn't have any smell, black in color, and has been in use since time immemorial for many remedies.
Aadhunik Ayurveda deals in whole herbs, to tea cut & fine powder of different herbs-roots, stems, flowers petals, that is sourced in a sustainable and environment-friendly way, from farmers from the Himalayan regions and other Indian states.
Bamboo Herbal Powders made at Aadhunik Ayurveda have multiple purposes in nature as this powder may be used for many purposes such as Charcoal Soap, Charcoal tooth powder, Skincare products, and much more. Therefore, you could explore its benefits in several skincare remedies.
Benefits of Activated Charcoal Powder
Activated charcoal powder pulls out all forms of dirt and impurities from the skin that any cleanser can't clear from the pores.
Activated charcoal exfoliates the pores and skin and clears blackheads and other skin blemishes making it appear brilliant and youthful.
Activated charcoal may get rid of oily skin and dirt and debris from skin pores, and zits on the skin reduce automatically.
Natural activated charcoal powder strengthens your hair and counters hair fall to a point.
Antifungal and Antibacterial properties of Activated Charcoal Powder support oral care functions. It possesses antiviral effects that make it effective against viruses and germs. By detoxifying the cavities and mouth, it assists your overall health.
Activated Charcoal Powder eliminates the harmful toxins from your skin that may cause skin ageing. It removes chemicals and maintains a healthy skin texture and appearance.
Manufacturer & Supplier of Activated Charcoal Powder
Aadhunik Ayurveda is the main producer, manufacturer, and supplier of edible Charcoal Powder in India. These herbal powders are made using the traditional technique to turn whole herbs into fine powder as desired. Hence, the powder is a healthy, nutrient-intact herb powder suitable for multiple uses in food, skincare, supplements, and much more.
We also export our high-quality Herbal Powder to different countries around the world. Products follow the highest standards when it comes to purity and quality. We provide the purest forms of edible herbal powders like Tulsi powder, Neem powder, Hibiscus Powder, and more to our clients. No chemicals, fillers, or preservatives were added to them. At Aadhunik Ayurveda you get quality herb edible handmade edible herb powders. We believe if the herb is edible, the powder made using that herb's part is edible too.
You also order Edible Herbal charcoal Powder Online in different packages like 1kg, 5kg, 20kg and so from Aadhunik so that you can use them as per your needs.
All this to prove unique potent products to your skincare line with ease and low investment. We also offer the best logistic solutions to give excellent services to our clients, and therefore, always exceed their expectations.
Making of activated charcoal powder at Aadhunik Ayurveda
Making of charcoal powder at Aadhunik Ayurveda is purely a traditional technique that makes use of no chemicals and not even the preservatives. Watch the making of charcoal powder here.
Private Label Activate Charcoal Products for Skin & Hair
Aadhunik Ayurveda offers natural and organic Private Label Activated Charcoal -based Products for skin & wellness.
Private Label Edible Herbal Powder
Private Label Charcoal Foaming Face Wash for Oily Skin
Private Label Organic Herbal Facial Kit
Private Label Charcoal Grooming Kit
Private Label Herbal Powder for Skin & Hair
Private Label Charcoal Tooth Whitening Powder and much more
With years of experience, Aadhunik Ayurveda develops healthy and chemical-free products which are highly beneficial to new brands as we understand the market needs in-depth. Since we work totally in tune with our customer's requirements, no one delivers the custom formulation with the least investment and low moq's as Aadhunik Ayurveda does.
Explore more with Aadhunik Ayurveda through ongoing market trends, custom formulation, and everything that involves skin care.
FAQ
How Long Activated Charcoal Last?
Aadhunik Activated Charcoal has an almost indefinite shelf life if stored in an air-tight container.
Is it edible charcoal powder?
Yes, it is edible charcoal powder.